Experience Design, Shaping Organization Design (April 23rd Pre-Conference Workshop)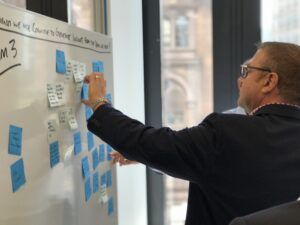 Experience Design, Shaping Organization Design
As practitioners, do we think enough from the "outside-in?" Is the experience we want to offer our customers embedded in the way we think about designing organizations?
This collaborative workshop is intended to share the principles of Customer Experience (CX) strategy and to practice the methods and tools of the discipline in the context of organization design. We believe that the practice of CX can be applied internally by the very same organizations that use it to generate value in customer applications. Applying the core principles of CX such as human insight, collaborative design, and rapid iteration within your organization will help unlock employee engagement, team performance, and business results.
Together, we will apply methods and tools from Design Thinking such as Empathy Mapping, Experience Mapping, Appreciative Inquiry, and Prototyping to the organization design process. We will also share insights from research conducted by IBMiX on the concept of Brand Belonging, which can have a dramatic impact on how connected humans feel to brands that they buy from and work for, and how having the right organization design can help "activate" these brands.
SESSION IS SCHEDULED
APRIL 23, 2018
9:00 AM – 4:00 PM
$495 Registration Fee
FACILITATORS:
As Talent and Culture Leader at IBM iX, Jeff leads the organization's efforts in building the kind of creative environment where people can bring their creative best each and every day. Jeff leads the IBMiX's efforts in finding the very best talent in the industry and ensuring that associates have the opportunities to continually learn, grow and innovate on behalf of the company and our clients.
Jeff brings a unique blend of talents to his role, having spent equal time on the agency, client and consulting sides of the marketing business. During his career, he has held leadership roles in marketing, organizational development and human resources. Prior to joining IBM iX, Jeff served as Executive Vice President of People and Culture at Leo Burnett USA, where he drove the people strategy and execution for one of the largest agencies in the world. Sinse arriving at IBMiX, Jeff has helped to evolve the company's structure, talent management practices and focus on creativily leveraging the amazing talent already in place while adding new talent who complement and support our vision for the future.
Jeff received a Bachelor Degree in Philosophy from Denison University and a Master's of Science Degree in Organizational Development and Analysis from Case Western Reserve University. He is a certified executive coach and serves on Talent Management Magazine editorial advisory board.
Brian's background is a unique blend of design, business strategy, and organizational change. Currently with IBM iX, he leads engagements creating a wide range of cross-platform brand experiences for Shell Chemicals, DSW, Newell Rubbermaid, and Nestle'. His specialty is in creating strategies that align clients' "front of house" and "back of house" to operationalize and execute innovative customer experiences. Prior to joining IBM iX he was a Managing Director at Root, Inc. where he led teams in creating customer and employee experiences for clients such as Starwood Hotels, YUM Brands, Cleveland Clinic, Disney, and GAP Inc. During his tenure at Root, Inc. he launched their user-centered research and design practice in Chicago while getting his Masters in Innovation Strategy from the Institute of Design, IIT.