The list below presents an annotated bibliography of some essential books for the organization design practitioner. In addition to their breadth and importance, they have been chosen to represent current thinking and availability (all are in print and available from Amazon). If you would like to add works to this list or additional comments regarding specific books, please send your thoughts to Tanya Spelts at info@organizationdesignforum.org.
Categories:
GENERAL ISSUES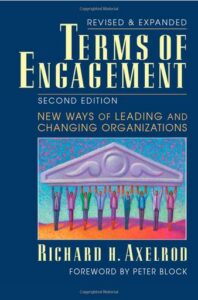 Terms Of Engagement – Second Edition, Richard Axelrod
Building engagement is crucial for every organization. But the traditional top-down coercive change management paradigm—in which leaders "light a fire" under employees—actually discourages engagement.
Richard Axelrod offers a better way. After debunking six common change management myths, he offers a proven, practical strategy for getting everyone—not just select committees or working groups—enthusiastically committed to organizational transformation. This revised edition features new interviews—everyone from the vice president of global citizenship at Cirque du Soleil to a Best Buy clerk—and new neuroscience findings that support Axelrod's model. It also shows how you can foster engagement through everyday conversations, staff meetings, and work design.
"Dick is a wizard. This book is important. Few people in the world of transformation have Dick's insights, concrete thinking,
and methods for making change stick."- Peter Block, author of Stewardship, Flawless Consulting, The Answer is Yes
You Don't Have To Do It Alone – Richard Axelrod, Emily Axelrod, Julie Beedon, Jay Jacobs
"This book is an excellent resource — use it!"— Ken Blanchard – The One Minute Manager and Full Steam Ahead!
"A complete blueprint for involving others" and "the best of the current crop of books on this topic."
— Paul R. Brown, New York Times Columnist
Most people in organizations tend to manage projects either as realists or humanists. You Don't Have to Do It Alone brings together the practical view of the realist and the people-oriented view of the humanist, combining the best of both approaches into one role: the "Pragmatic Involver." Covering everything from solving a nagging long-term problem at work that could save a company millions of dollars, to launching a community movement to improve local schools, the book shows how involving others in a project while maintaining one's focus on the nuts-and-bolts details can make big things happen.
Using the authors' six major questions – each of which is explored in detail – You Don't Have to Do It Alone shows how success can be attained in a project on any scale, from redesigning a manufacturing process at a paper mill to creating an effective youth center.

Organization Design by Nicolay Worren (2012)
The book is aimed at master-level students and professionals who want an in-depth understanding of how to deal with organizational design challenges facing large and complex firms. Key topics include:
Why organizations are becoming more complex
What managers can do to manage or reduce complexity
How to design multidimensional structures
How to improve sub-unit interfaces
Managing the organisation design process
"…The message that organization design is a part of every managers' job, is a major determinant of effectiveness, but requires considerable skill, comes through load and clear from this book.  With its use of challenges, key questions and proposed approaches the book explains complex concepts and provides a good blend academic insight and practical relevance".
Paul R. Sparrow, Director, Centre for Performance-led HR, Lancaster University Management School
"This clearly written book offers a contemporary and thoughtful presentation of the architectural options involved in organisational design. It candidly acknowledges the neglect of organisational design in much research (…). It emphasizes that the topic of organisational design must include processes of design (…) Overall, Nicolay Worren persuasively makes the argument that organizational design deserves to be a core topic in the modern business school.
Lex Donaldson, Professor of Management in Organisational Design, Australian School of Business, University of New South Wales
Organization Design: A Guide to Building Effective Organizations by Patricia Cichocki & Christine Irwin (2011)
With the rate of change in organizations at an all-time high, the need for strong organization design has never been mopressing. Organization Design provides a complete road map for the implementation of designing organizations, including new start-ups, restructuring, re-sizing and sourcing.
Written by two experienced and well known organization design practitioners, this book is full of hints and tips and gives a practical toolkit to take the professional from start to finish. Organization Design outlines the basic theory and provides a step-by-step approach to creating your optimal organization design, as well as providing solutions to the recurring challenges you may meet along the way.
The book is in 3 parts:
Part 1 – Understanding organization design
Part 2 – Designing your organization the optimal way
Part 3 – Dealing with recurring challenges
Stanford, Naomi (2004), Organization Design: the Collaborative Approach
A collaborative approach to investigate and change the ways your organization works in order to increase productivity, performance, and profit.
"Organization Design provides a highly informative and practical road map for HR professionals and line managers confronting the challenge of organization redesign, particularly at the business unit and divisional levels."
Jim Shillady, Partner with Kiddy and Partners, leads the UK Organization Design Group.
"Naomi Stanford provides a fantastically rich source of ideas, tools and tips for managers, HR and OD practitioners and consultants alike. Grounded in real experiences of managing organisation design projects, she skilfully leads you through the often highly charged and complex issues involved – keeping your focus on the needs of the business when others are losing theirs! A valuable resource for anyone with responsibility for managing organisational change projects."
Karen Giles, Organisational Change Manager, Energis. Formerly, Specialist Adviser, Organisation and Development at the Chartered Institute of Personnel and Development.
Stanford, Naomi (2007), Economist Guide to Organisation Design: Creating High Performing and Adaptable Enterprises
Business failure is not limited to start ups. In America alone between 1990 and 2000, there were over 6.3 million business start-ups and over 5.7 million business shut-downs.
Risk of failure can be greatly reduced through effective organisational design that encourages high performance and adaptability to changing circumstances. Organisation design is a straightforward business process but curiously managers rarely talk about it and even more rarely take steps to consciously design or redesign their business for success. This new Economist guide explores the five principles of effective organisation design, which are that it must be:
driven by the business strategy and the operating context (not by a new IT system, a new leader wanting to make an impact, or some other non-business reason).
involve holistic thinking about the organisation
be for the future rather than for now
not to be undertaken lightly: — it is resource intensive even when going well
be seen as a fundamental process not a repair job. (Racing cars are designed and built. They are then kept in good repair).
Brown, Tim (2009), Change by Design, Harper Collins
Tim Brown, CEO of IDEO, shows how the techniques and strategies of design belong at every level of business.
The myth of innovation is that brilliant ideas leap fully formed from the minds of geniuses. The reality is that most innovations come from a process of rigorous examination through which great ideas are identified and developed before being realized as new offerings and capabilities.
This book introduces design thinking, the collaborative process by which the designer's sensibilities and methods are employed to match people's needs with what is technically feasible and a viable business strategy. In short, design thinking converts need into demand. It's a human-centered approach to problem solving that helps people and organizations become more innovative and creative.
Design thinking is not just applicable to so-called creative industries or people who work in the design field. It's an approach that has been used by organizations such as Kaiser Permanente to increase the quality of patient care by re-examining the ways that their nurses manage shift change or Kraft to rethink supply chain management. This book is for creative business leaders who seek to infuse design thinking into every level of an organization, product, or service to drive new alternatives for business and society.
Beyerlein, Mike, Freedman, Sue, McGee, Craig, and Moran, Linda (2003). Beyond Teams: Building the Collaborative Organization. San Francisco: John Wiley and Sons
Teams have been part of organizations for over 20 years. But their success and sustainability has been inconsistent. The flagship book for the new Collaborative Work Systems Series, Beyond Teams:
provides an overview of this growing field
provides a new conceptual framework, one of the "collaborative organization",
defines the 10 fundamental principles for increasing the effectiveness of how individuals and organizations collaborate
illustrates how organizations can increase their competitive advantage through collaborative practices that underlie teaming
This book probes deeply into the construct of collaboration and illustrates how the collaborative organization, rather than relying only on formal team structures, consists of a more complex set of dynamic, yet disciplined exchanges of information and decision-making. And these exchanges can be consciously designed through the organization's systems and processes. The book provides compelling case examples from companies like GE, Hewlett-Packard, Intel, and Agilent to illustrate how to create the collaborative organization.
Beyerlein, Mike, McGee, Craig, Klein, Gerald, Nemiro, Jill, and Broedling, Laurie (2003). The Collaborative Work Systems Fieldbook. San Francisco: John Wiley and Sons
The Collaborative Work Systems Fieldbook is a comprehensive reference that offers practitioners a resource for dealing with the challenges of designing and implementing collaborative work systems in value chains, organizational networks, partnerships with stakeholders, web-based teams, cross-functional teams, strategic alliances, and team-based organizations. The Collaborative Work Systems Fieldbook is filled with ideas, examples, and tools and includes a wealth of matrices, margin notes, and symbols that make locating relevant information easy. Part of The Collaborative Work Systems series and based in part on principles introduced in the flagship book — Beyond Teams, this Fieldbook is written for change leaders, OD managers, steering team members, design team members, line managers, and functional leaders who need a hands-on resource for dealing with collaborative work systems issues.
Table of Contents:
Introduction and Framework for the Fieldbook, Strategy and Goal Setting, Leadership and Organization Culture, Structure and Overall Design, Work Processes and Communication Systems, Human Resources Processes, Individual, Interpersonal, and Team Competencies and Skills
Gerstein, M. (2008) Flirting with Disaster New York, Union Square Press
Description: This book does what Blink did for intuition, The Black Swan for probability, and Freakonomics for microeconomics: offer an engaging, in-depth view of a complex and crucial topic. Despite warnings of impending disaster, preemptive action is rarely taken by those who have the ability to do so. How do smart, high-powered people, leaders of global corporations, national institutions, even nations, often get it so wrong? While most investigations focus on the technical causes of disaster, Flirting With Disaster examines the psychological, social, and cultural impediments to whistle-blowing, showing what we can do to reduce the possibility of disasters happening at all.
Table of Contents: – Foreword by Daniel Ellsberg: Learning from Past Disasters, Preventing Future Ones Introduction – The Bystanders Among Us – Human Biases and Distortions – Understanding Uncertainty: Why Did So Many People Bet Against Katrina? Space Shuttle Challenger: Cold, Warm, and Hot Causes of Disasters – Chernobyl, Faulty Design, and the Interplay of Humans and Technology – The Vioxx Disaster and BP: The Seduction of Profits – When All the Backups Failed: How American F-15s Accidentally Shot Down Two U.S. Army Black Hawks – Butterfly Wings and Stone Heads: How Complexity Influences Catastrophe in Policy Decisions – The Collapse of Arthur Andersen: The Role of Organizational Culture – When Countries Go Bankrupt: The Prisoner's Dilemma Writ Large – What Have We Learned? What Can We Do? – Advice for Leaders – Afterword by Daniel Ellsberg: When the Leaders Are the Problem.

Ackoff, R. L. (1999), Re-Creating the Corporation: A Design of Organizations for the 21st Century. New York: Oxford University Press
Table of Contents:
Background, The Nature of Systems – Types of Systems and Models – Types of Management – Process: Planning, Design, Implementation, and Learning, Formulating the Mess: Sensing and Making Sense of the Situation – Ends Planning: Where to Go – Means Planning: How to Get There – Resource Planning: What's Needed to Get There – Implementation and Control: Doing It and Learning – Designs: Democracy, Economy, and Flexibility, A Democratic Hierarchy: The Circular Organization – The Internal Market Economy – The Permanently Structured Multidimensional Organization – Change: Reformations and Transformations, Panaceas, Fads, and Quick Fixes – Organizational Development and Transformational Leadership.
Description:
Author lay out in clear concise prose five essential organizational goals: plan effectively, learn and adapt rapidly, democratize, introduce internal market economies, and employ a flexible structure that will minimize the need for future restructuring.
Burton, R. M., DeSanctis, G., Obel, B. (2006), Organizational Design: A Step-by-Step Approach. Cambridge: Cambridge University Press
Table of Contents:
Define the scope of an organization and assess its goals – Strategy – Environment – The configuration and complexity of the firm – Distributed organizations – Task design – People – Leadership and organizational climate – Coordination, control and information systems – Incentives – Design dynamics: managing change and multi-organizations
Description:
This book sets out a step-by-step approach to designing an organization. All the key aspects of organizational design are covered, including goals, strategy, structure, process, people, coordination and control, and incentives. The text engages with critical issues affecting organizations, such as globalization, worldwide competition, deregulation and ever-new technologies, and contains many helpful features such as end-of-chapter reviews and unique step-by-step diagrams to orientate the reader in the design process. The action oriented approach of this text helps the reader to assess and re-design the complex organizations of today, and plan for the information-rich organizations of tomorrow.
Burton, R. M., Eriksen, B., Hakonsson, D. D., Snow, C. C. (2006), Organization Design – The Evolving State-of-the-Art. Berlin: Springer
Table of Contents:
Part 1: Theoretical and practical issues, The configurational approach to organization design: four recommended initiatives – The contingency theory of organizational design: challenges and opportunities – Part 2: Fit, Contingency, and Configuration, Examining the relationship between trust and control in organizational design – Structural limitations in organizational design – The many facets of fit – The fit between national cultures, organizing and managing – Part 3: Design and Performance, Organizational design, learning, and the market value of the firm – New developments in contingency fit theory – Organization design constraints on strategy and performance – Action leadership, multi-contingency theory and fit – Part 4: The Dynamics of Adaptation and Change, Management and Genghis Khan: Lessons for multinational business enterprises – Designing firms for knowledge acquisition and absorptive capacity – Models of change, organizational redesign, and the adoption of web technologies – Governance channels and organizational design at General Electric: 1950-2001
Description:
The book outlines the larger role that organizational design is increasingly playing in management theory and practice. The book's chapters review the main theoretical perspectives on organization design, identify important theoretical and practical issues currently facing the field, and suggest ways for valuable research to be conducted in the future. The chapters include sections that describe how the theoretical argument or empirical study specifically informs organization design theory and practice.
Burton, R. M., Obel, B. (2003), Strategic Organizational Diagnosis and Design: The Dynamics of Fit. Berlin: Springer
Table of Contents:
Diagnosis and Design – What is an Organizational Design? – Leadership and Management Style – Organizational Climate – Size and Skill Capabilities – The Environment – Technology – Strategy – Diagnosis and Misfits – Organizational Design Fit – The Dynamics of the Change Process – CD: Teaching Materials and OrgCon
Description:
The book systematically surveys the substantive literature on organizational design and develops the theoretical framework of multiple contingency organizational design. The multiple contingencies in the theoretical framework cover the contingencies of size, technology, environment, and strategy, as well as leadership style and organizational climate and culture. These contingencies are mapped into design parameters such as organizational configuration, specialization, decision authority, information processing, coordination and control, and incentives. Authors examine a variety of existing organizational situations and provides the structure and analysis to diagnose and assess what can be done to have a more efficient and effective organization.
Galbraith, J. R. (2000), Designing the Global Corporation. San Francisco: Jossey-Bass
Table of Contents:
The Challenge of Organizational Complexity – Organizing The Global Corporation – Levels of International Development – Partnering – The Geographical Division – Multidimensional Structures – Coordination Across Networks – Formal Cross-border Networks – Shifting Power Across The Network – The Transnational Form – The Multidimensional Multinational -Organizing to Serve The Global Customer – The Front-back Hybrid Organization – A Look Ahead
Description:
Author shows companies how to match their own strengths and strategies with proven design options. Whether they're exporting their first product or already operating around the world, he gives companies the information they need to build flexible, global networks. Through real-world examples a successful international businesses which already navigate the global environment are presented.
Galbraith, J. R. (2001), Designing Organizations: An Executive Guide to Strategy, Structure, and Process. New York: John Wiley & Sons
Table of Contents:
Six Immutable Forces Shaping Today's Organizations – Choosing an Effective Design – Matching Strategy and Structure – Linking Process to Coordination Needs – Creating and Integrating Group Processes – Designing a Reconfigurable Organization – Organizing Around the Customer – Customer-Focused Structures – Creating a Virtual Corporation
Description:
Galbraith's book is a leader's concise guide to the process of creating and managing an organization – no matter how complex – that will be positioned to respond effectively and rapidly to customer demands and have the ability to achieve unique competitive advantage. It addresses the concerns and challenges of the new global economy and an extensive chapter on the flexible organization.
Galbraith, J. R., Downey, D., Kates, A. (2002), Designing Dynamic Organizations: A Hands-on Guide for Leaders at all Levels. New York: AMACOM
Table of Contents:
Getting Started – Organization Design – The Reconfigurable Organization – Deciding When to Redesign – The Design Process – The Case for a Participative Process – Determining the Design Framework – Translating the Strategy into Design Criteria – Clarifying Limits and Assumptions – Assessing the Current State – Designing the Structure – Structural Concepts – Organizational Roles – Leadership Roles – Testing the Design – Using a Participative Process – Mapping the Structure – Design and Implementation Governance – Processes and Lateral Capability – Lateral Capability – Networks – Lateral Processes – Teams – Integrative Roles – Matrix Structures – Building Lateral Capability – Defining and Rewarding Success – Metrics – Values and Behaviors – Compensation – Rewards and Recognition – People Practices – Staffing the New Organization – Assessing the Learning Aptitude – Performance Feedback – From Training the Learning – Implementation – Planning – Management Skepticism – Assimilating into the Organization
Description:
In this workbook the STAR model is presented in-depth and supplemented with tools for its implementation. This book should serve as a basic foundation for any OD/HR professional or manager/leader desiring to create a vital, sustainable, reconfigurable, and dynamic organization. What the reader can expect is simplistic language and pragmatic tools and methods.
Howard, A. et al. (1994), Diagnosis for Organizational Change. New York: The Guilford Press
Table of Contents:
Organizational Perspectives – The Practitioner as Diagnostic Instrument – Diagnostic Models for Organization Development – Diagnosis for Organization Design – Perspectives on Human Talent – Addressing Future Staffing Needs – Training Needs Assessment – Personnel-Centered Organization Diagnosis – Perspectives on the High Involvement Workplace – Diagnosing Organization Cultures for Alignment – Effective Reward Systems – Diagnosing Issues for Work Teams
Description:
Organization diagnosis produces the roadmaps that organizational change interventions. To generate better understanding and appreciation, this book 1) Illustrates methods and models, 2) demonstrates the breadth and depth of the process, and 3) Explores a more integrated approach to diagnosis. The book approaches organization diagnosis from three different perspectives: 1) macro views of organizations, 2) contributions of individuals, and 3) management and motivation in the high-involvement workplace.
Lawler III, E. E. (1996), From the Ground Up – Six Principles for Building the New Logic Corporation. San Francisco: Jossey-Bass
Table of Contents:
Introduction: The New Realities of Business Competition – Part One: The New Logic Principles, Changing the Assumptions: The New Logic Principles for Organizing – Achieving High Performance: Turning Principles into Practice – Part Two: Putting the Principles to Work: Strategy and Structure, Business Strategy: Creating the Winning Formula – Corporate Architecture: Structuring for High Performance – Organization Design: Matching the Organization to the Business – Work Design: Moving Beyond the Limits of Jobs to Work and Involvement – Teams: Keys to Making Them Successful – Part Three: Putting the Principles to Work: People, Rewards, Communication, and Management, Human Resources: Managing People in New Logic Corporations – Reward Systems: Paying for Teamwork, Competencies, and Performance – Communication and Measurement: Supporting New Logic Management – Part Four: Managing Change: The New Logic Corporation and Beyond, Making It Happen: Creating the New Logic Corporation – Beyond the Corporation: The Impact of the New Logic on Society
Description:
Author presents six principles and plenty of practical guidance for overhauling an enterprise from bottom to top and bringing it into alignment with the realities of today's marketplace. By providing a big-picture view of a future direction for organizations, readable and useful summaries of theory and research, laced with examples of companies, offer a systemic prescription for building organizations that can survive and thrive in the future.
Lawler III, E. E., Worley, C. (2006), Built to Change: How to Achieve Sustained Organizational Effectiveness. San Francisco: Jossey-Bass
Table of Contents:
Why Building Organizations to Change – A Dynamic View of Organizational Effectiveness – Strategizing – Structuring for Effectiveness and Change – Developing the Right Information, Measurement, and Decision-Making Processes – Acquiring the Right Talent – Managing Human Capital – Meeting the Leadership Challenge – Designing Reward Systems – Rewarding Performance and Change – Creating a Built-to-Change Organization
Description:
Built to Change captures the change challenge faced by most executives and offers practical tools that not only dissect change but provide hope that the constancy of change need not be feared but relished. Authors explain how to anticipate leadership challenges and make them manageable. Furthermore, they have broken new ground in helping companies to look forward and understand the requirements for success in a constantly changing world.
Mohrman, S. A., Galbraith, J. R., Lawler III, E. E. (1998), Tomorrow's Organization: Crafting Winning Capabilities in a Dynamic World. San Francisco: Jossey-Bass
Table of Contents:
Designing Competitive Organizations – Corporate Boards: Developing Effectiveness at the Top – Linking Customers and Products – Designing the Networked Organization – Structuring Global Organizations – Enabling Competitive Performance – Organizing for Competencies and Capabilities – The Changing Nature of Work – Employee Involvement, Re-engineering and TQM – Managing People in the Competitive Organization – The New Human Resources Management – The New Learning Partnership – Executive Education – Strategic Pay System Design – Transforming the Organization – Teams and Technology – Accelerating Organizational Learning During the Transition – Catalyzing Organizational Change and Learning
Description:
This is a book that offers specific hands-on solutions and practical guidelines for creating organizations that can compete successfully in the twenty-first century. It describes how to design for the new competitive environment–including customer product solutions, design issues in networked organizations, and the structuring of global organizations. It offers practices which bare most likely to prove of lasting value and offers new ways to manage employees through competency-based pay, the new learning contract, and new approaches to executive development.
Pasmore, W. A. (1994), Creating Strategic Change: Designing the Flexible, High Performance Organization. New York: John Wiley & Sons
Table of Contents:
Change and Flexibility, Creating a High–performance Organization – The Trajectory of Change, Designing Flexible Organizations – Flexible People, Helping People Take Responsibility for Change – Flexible Technology, Designing The Organization to Take Advantage of New Technology – Flexible Work, Getting Things Done Through Teamwork and Collaboration – Flexible Thinking, Creating a New Type of Organization – Flexible Managers, What Happens to The Leaders? – Fractal Organization Design, Replacing The Organization Chart – Getting There, Making Systemic Change Happen – The Human Experience, Managing as if Change Mattered
Description:
Author has brought over 20 year's worth of expertise to this conceptually sophisticated yet practical guide concerned with organization design and change. Book concentrates on implementation and how organizational planning and transformation efforts can improve performance productivity. It also features extensive cases and examples developed by the author from his consulting work at enterprises like Proctor & Gamble, TRW, Goodyear, General Foods and other companies.
Purser, R. E., Cabana, S. (1998), The Self-Managing Organization: How Leading Companies Are Transforming the Work of Teams for Real Impact. New York: The Free Press
Table of Contents:
The End of Management and the Rise of The Self Managing Organization – The Road Less Traveled: Lockheed Martin's Journey Toward Self Management – Away with Experts: Participative Design – Going to the Roots: Changing the Organization Design Principle – Revolutions Gone Sour: Learning from Evolutionary Failures – Democratizing the Strategy Creation Process: How Motorola Held Strategic Conversations to Reinvent a Global Product Strategy – The Search Conference: Engine for Rapid Strategy Creation at Microsoft and Charles Schwab – Democratizing Work: The Participative Design Method – Participative Design of Business Processes at Sequa Chemicals – Designing the Self Managing Organization: The Transformation of Syncrude Canada – The Role of Management in a Self Managing Organization – Epilogue: Democracy at Work in the Twenty-first Century
Description:
This book describes the principles and methods for designing the self-managing organization. Authors show how companies in any industry can change and evolve to become fully self-managing organizations.
Stanford, N. (2005), Organization Design: The Collaborative Approach. Oxford: Butterworth-Heinemann
Table of Contents:
Introduction – What is Organization Design? – You and organization design – Finding the right sponsor – Phase one: Preparing for change – Phase two: Choosing to re-design – The communications plan – Managing Stakeholders – Phase three: Creating the high-level design and the detailed design – Risk – Project management – Phase four: Handling the transition – The people planning – Phase five: Reviewing the design – Trends in organization design
Description:
This is an excellent practical guide. It combines a genuinely systemic understanding of the design process with clear, comprehensive and extremely well-organized advice on every aspect of design and implementation. There is a wealth checklists and tools, all carefully framed within explanation of the place of each in the whole. Each chapter ends with a self-check, a list of do's and dont's and a 'bare bones' summary. The book is written primarily for HR practitioners but will be equally valuable for line managers and for consultants.
Stanford, N. (2007), Guide to Organisation Design (The Economist). London: Profile Books
Table of Contents:
Introducing Organisation Design – Models, approaches and designs – Organisational structures – Planning and sequencing the organisation design – Measurement – Stakeholder engagement – Leadership and organisation design – Culture and group processes – Morphing not future proofing
Description:
This guide sets out to provide insights and practical help on how to avoid the common mistakes made with enterprises set about restructuring themselves. Each chapter looks at a specific aspect of organisation design and is illustrated with real company example, and then concludes with a case study that demonstrates ways of tacking the particular issues.
---
Daft, R. L. (2006), Organization Theory and Design. Cincinnati: Southwestern Publishing
Table of Contents:
Part I: Introduction TO Organizations, Organizations and Organization Theory – Part II: Organizational Purpose and Structural Design, Strategy, Organization Design, and Effectiveness – Fundamentals of Organization Structure – Part III: Open System Design Elements, The External Environment – Interorganizational Relationships – The International Environment and Organization Design – Part IV: Internal Design Elements, Manufacturing and Service Technologies -Information Technology and Control – Organization Size, Life Cycle and Decline – Part V: Managing Dynamic Processes, Organizational Culture and Ethical Values – Innovation and Change – Decision Making Processes – Conflict, Power, and Politics – Integrative Cases
Description:
This textbook integrates the most recent thinking about organizations, classic ideas and theories, and real world practice, in a way that is interesting and enjoyable for readers Throughout the text, detailed examples illustrate how companies are coping in the rapidly changing, highly competitive, international environment. While organization studies and real world examples are insightful for understanding organizations and solve real-world problems, author also integrates numerous features that give a reader opportunity to apply concepts and develop skills and insights.
Jones, G. R. (2008), Organizational Theory, Design, and Change. New Jersey: Prentice Hall
Table of Contents:
Organizations and Organizational Effectiveness – Stakeholders, Managers, and Ethics – Managing in a Changing Global Environment – Basic Challenges of Organizational Design – Designing Organizational Structure, Authority and Control -Designing Organizational Structure, Specialization and Coordination – Creating and Managing Organizational Culture – Organizational Design and Strategy in a Changing Global Environment – Organizational Design, Competences, and Technology – Types and Forms of Organizational Change – Organizational Transformations, Birth, Growth, Decline, and Death – Decision Making, Learning, Knowledge Management, and Information Technology – Innovation, Intrapreneurship, and Creativity – Managing Conflict, Power, and Politics
Description:
This textbook brings together coverage of organizational theory and organizational change to allow faculty to teach how organization theories are put into practice for analyzing and changing organizations.
Robey, D., Sales, C. A. (1994), Designing Organizations. New York: McGraw-Hill
Table of Contents:
Part 1: Introduction, A Macro Perspective on Organizational Design – The Design Process: A Strategic View – Organizational Effectiveness – Part II: Designing Organization Structure, Environment and Organizational Structure – Technology and Structure – Size, Differentiation, and Integration – Departmental Structure – Team-Based Designs – Interorganizational Designs – Part III: Designing Organization Processes, Control – Growth, Decline, and Turnaround – Organizational Culture – Innovation – Organizational Learning -Part IV: A Look Ahead, Organizations in the Future
Description:
Textbook which covers both issues regarding organizational structure, as well as organizational processes.
---
Askenas, R. N., Ulrich, D., Jick, T., Kerr, S. (1995), Boundaryless Organization: Breaking Chains of Organization Structure. San Francisco: Jossey-Bass
Table of Contents:
A New World Order, Rising to the Challenge nof New World Order – Free Movement Up and Down: Crossing Vertical Boundaries, Toward a Healthy Hierarchy – Rewiring and Retuning the Hierarchy – Free Movement Side to Side: Crossing Horizontal Boundaries – Beyond Turf band Territory – Integrating Resources to Serve the Customer – Free Movement Along the Value Chain: Crossing External Boundaries – Toward Partnership with Customers and Suppliers – Strengthening the Value Chain – Free Global Movement: Crossing Geographic Boundaries – Toward the Global Corporation – Actions for Global Learners, Launchers and Leaders – Making it Happen
Description:
Discover the specific strategic premier companies are using to position themselves for success in the new knowledge economy. In this work, it is shown how leading companies – including General Electric, Morgan Bank, and SmithKline Beecham – are busting boundaries on all fronts, each producing superior results by encouraging the flow of ideas, resources and talents in and out of the organization, up and down the hierarchy, and across geographic boundaries.
Baligh, H. H. (2006), Organization Structures: Theory and Design, Analysis and Prescription. Berlin: Springer
Table of Contents:
Structure, Performance, Cost, and Outcome – Organization Structures – Properties of the Organization Structure – Structures: Connections, Consistency and Costs – Properties of Transformations, Environments and Structure Performances – Analytic Mappings: From Substructure Performance and Environments to Outcomes – Analytic Mappings: From Structure to Performance, Part One – Analytic Mappings: From Structure to Performance, Part Two – The Efficiency of the Design Process – Design Mappings: Design Rule Derivation and Use – Design Rules for Organization Structure Performance Properties – Design Rules for Organization Substructure Properties and Components: Part A – Design Rules for Organization Substructure Properties and Components: Part B – A Useful Process of Design
Description:
The book describes how to organize people to achieve a desired outcome. This is done by way of establishing sets of rules from "real world" organization concepts. Moreover, the development of these rules within "real world" contexts means that the rules must be true, general, operational, technically sound, and easy to use. The book discusses, examines, and demonstrates the interrelationship of the design rules, their use within organization structures theoretically and along with their practical implications.
Galbraith, J. R. (1994), Competing with Flexible Lateral Organizations. Reading: Addison-Wesley
Table of Contents:
Lateral Organizational Capability – Lateral Coordination – Lateral Organization – Formal Lateral Groups – Integrating Roles – The Distributed Organization – Lateral Coordination Cases – Summary Thoughts
Description:
This book focuses on creating competitive advantage by building a lateral capability, enabling a firm to respond flexibly in an uncertain world. The book addresses international coordination and cross-business unit coordination, as well as the usual cross-functional efforts.
Goold, M., Campbell, A. (2002), Designing Effective Organizations: How to Combine Networks and Hierarchies. San Francisco: Jossey-Bass
Table of Contents:
Structured Networks – The Fit Drivers and Tests – The Good Design Principles and Tests – Simple and Complex Structures – A Taxonomy of Unit Roles – Parenting in Complex Structures – An Overview of the Design Process – Nine Tests of Organization Design – The Design Process: The Example of Global Foods – Twenty First Century Organizations
Description:
This book connects structure of an organization to strategy of the firm. It provides excellent frameworks of analysis. At a minimum the authors have brought to the subject of organization design the sort of rigor that we are familiar with in the strategy field.
Kates, A., Galbraith, J. R. (2007), Designing Your Organization: Using the STAR Model to Solve 5 Critical Design Challenges. San Francisco: Jossey-Bass
Table of Contents:
Fundamentals of Organization Design – Designing around the Customer – Organizing Across Borders – Making a Matrix Work – Solving the Centralization-Decentralization Dilemma – Organizing for Innovation – Conclusion – Appendix: Decision Tools
Description:
Designing Your Organization is a hands-on guide that provides managers with a set of practical tools to use when making organization design decisions. Based on Jay Galbraith's widely used Star Model, the book covers the fundamentals of organization design and offers frameworks and tools to help leaders execute their strategy. The authors address the five specific design challenges that confront most of today's organizations: Designing around the customer; Organizing across borders; Making a matrix work; Solving the centralization–and decentralization dilemma; Organizing for innovation. By addressing those issues, they bring contemporary organization decisions into focus and provides clear advice to achieve business performance today and tomorrow.
Keidel, R. (1995), Seeing Organizational Patterns: A New Theory and Language of Organization Design. San Francisco: Berrett-Koehler
Table of Contents:
Understanding Organization Design – The Triadic Nature of Organizations – Varieties of Design Failure – Triangulating Autonomy, Control and Collaboration – Framing Organizational Issues – Organization Strategy – Organization Structure – Organization Systems – Designing for Tomorrow – Toward an Organizational Pattern Language – A New Organizational Form
Description:
Today every manager, in every sector and at every level, is challenged by organizational complexity – demands and data from all directions. In order to make sense out of this complexity, managers, consultants and academics have devised a multitude of organizational models. However, nearly all of these models turn out to be of limited real-world because either oversimplify reality or they are themselves as complex as the reality they are trying to simplify. This book presents a third view – a new prism for viewing organization design that is neither simplistic nor unduly complicated. Keidel explains that most organizational issues are a balance of three variables: individual autonomy, hierarchical control, and spontaneous cooperation.
Mintzberg, H. (1992), Structure in Fives: Designing Effective Organizations. Englewood Cliffs: Prentice Hall
Table of Contents:
Foundations of Organization Design – Designing Individual Positions – Designing The Superstructure – Fleshing Out The Superstructure – Untangling Decentralization – Fitting Design to Situation – Design as Configuration – The Simple Structure – The Machine Bureaucracy – The Professional Bureaucracy – The Divisionalized Form – The Adhocracy – Beyond Five
Description:
The core theme of the book is that any organization is defined by the interaction of two key parameters: the division of labor and the means by which that division of labor is coordinated. An analysis of these interactions result in the discovery of 5 "ideal" organizational configurations which seem to be the building blocks used to "synthesize" all real organizations.
Mohrman, S. Cohen, S. G., Mohrman Jr., A. (1995), Designing Team-Based Organizations: New Forms for Knowledge Work. San Francisco: Jossey-Bass
Table of Contents:
Organizations and Teams – Designing Organizations for Knowledge Work – Exploring the Contours of a Team-based Organization – The Design Sequence – Identifying Work Teams – Specifying Integration Needs – Clarifying Management Structure and Roles – Designing Integration Processes – Managing Performance – Implementation Concerns – Identifying New Responsibilities and Skills – Defining Empowerment for the Team Environment – Developing Organizational Support Systems – Making the Transition – Facing the Challenges Ahead
Description:
This book breaks new ground in tackling organizational design issues related to the implementation of teams, with a specific focus on the new designs required to support the knowledge-work components of an organization.
Nadler, D. A., Tushman, M. L., Nadler, M. B. (1997), Competing by Design: The Power of Organizational Architecture. New York: Oxford University Press
Table of Contents:
A Blueprint for Change – Mapping the Organizational Terrain – The Principles of Design – The Crucial Design Issues – Choosing a Basic Structure: Strategic Groups – Coordinating Work: Strategic Links – Designing at the Enterprise Level – Designing at the Operational Level – A Process for Design – Implementing New Designs – Knowing When to Redesign – The Lessons of Design
Description:
Authors show that the last remaining source of truly sustainable competitive advantage lies in 'organizational capabilities': the unique ways each organization structures its work and motivates its people to achieve clearly articulated strategic objectives. For too long, too many managers have thought about "organization" merely in terms of rearranging the boxes and lines on an organizational chart-but as the book clearly illustrates, organizational strength is found far beyond one-dimensional diagrams. Managers must, argue Nadler and Tushman, understand the concepts and learn the skills involved in designing their organization to exploit their inherent strengths.
Rashford, N., Coghlan, D. (1994), The Dynamics of Organizational Levels: A Change Framework. Reading: Addison-Wesley
Table of Contents:
A New Perspective on Organizations – Organizational Levels: Theory and Practice – Defining the Space Within the Four Organizational Levels – Interlevel Dynamics – The Process of Change – Phases and Levels of Organizational Change – Phases and Levels of Change in a Communications Company – Strategies of Intervention – Integration
Description:
This book explores complex organizational dynamics such as the relationship between an individual and an organization, how a team functions, how a group of teams is coordinated, how an organization attempts to survive in its external environment and how each of these processes affect each other.
Rowbottom, R., Billis, D. (1987), Organisational Design: the Work-levels Approach. Aldershot: Gower
Cover photo not available
Table of Contents:
Part One: The General Approach, Introduction – Clarifying Authority Relationships – Distinguishing Work Levels – Matching People, Jobs and Rewards – The Prime Design Decisions – Teamwork, Decentralization and Participation – Part Two: Specific Applications, Factory Organization – Selling and Service Work – Professionals in Public Services – Top Structures in Industry and Commerce – Top Structures in Health Services and Local Government – Conclusion: Uncovering the Practical Options
Description:
Authors describe an approach to organizational design which is based on the work-level theory. Moreover, they provides an approach which is based on three sets of ideas: different types of authority relationships; different levels of work; and different levels of individual ability.
Simons, R. (2005), Levers Of Organization Design: How Managers Use Accountability Systems For Greater Performance And Commitment. Boston: Harvard Business School Press
Table of Contents:
Tensions of Organization Design – Aligning Span of Attention – Unit Structure – Diagnostic Control Systems – Interactive Networks – Shared Responsibilities – Adjusting the Levers: Three Examples – Designing Organizations for Performance
Description:
Simons presents a dynamic new design theory that offers clear direction for creating structures and accountability systems that positively influence how people do their work, where they focus their attention, and how their activities can be aligned to contribute to overall strategic goals. Author identifies four key factors that impact design decisions: customer definition, critical performance variables, creative tension, and commitment to others. Furthermore, he shows how managers can use these factors to adjust and align four levers of organization design in ways that assure success in strategy implementation.
---
Chait, R. P., Ryan, W. P., Taylor, B. E. (2004), Governance as Leadership: Reframing the Work of Nonprofit Boards. New York: John Wiley & Sons
Table of Contents:
First Principles – Problem Boards or Board Problems? – Type I Governing: Fiduciary – Type II Governing: Strategic – Type III: Generative Thinking – Type IV: Generative Governing – Working Capital That Makes Governance Work
Description:
The book presents a new framework for helping nonprofit organizations maximize the effectiveness of their boards. It provides a powerful framework for a new covenant between trustees and executives: more macrogovernance in exchange for less micromanagement. This book sheds new light on the traditional fiduciary and strategic work of the board and introduces a critical third dimension of effective trusteeship: generative governance. It serves boards as both a resource of fresh approaches to familiar territory and a lucid guide to important new territory, and provides a road map that leads nonprofit trustees and executives to governance as leadership.
Colombo, M.G., Delmastro, M. (2008), The Economics of Organization Design. London: Palgrave Macmillan
Table of Contents:
Introduction: A New View of Organizational Design – A New Quantitative Empirical Methodology for the Analysis of Organizational Design and Dynamics – The Determinants of the Allocation of Decision Authority – The Determinants of the Corporate Hierarchy – Evidence on the Determinants of Organizational Dynamics – The Effects of Organizational Design on Firm Performance – Conclusions
Description:
The authors synthesize the existing interdisciplinary quantitative evidence on organizational design and provide a new empirical framework to extend our understanding of the determinants of organizational design, its evolution and its effects on firm performance. Key topics such as the corporate hierarchy, the delegation of decision power, the determinants of organizational innovations are all examined in depth.
Galpin, T. J. (1996), The Human Side of Change: A Practical Guide to Organization Design. San Francisco: Jossey-Bass
Table of Contents:
At the Strategic Level: Organization-wide Change Management Imperatives – Teams- Building the Infrastructure for Effective Change – Communications – Beating the Grapevine with an Open Two-way Strategy – Culture – Managing All the Components – Leadership – Developing the Key Attributes for Leading Change – At the Grassroots Level: Implementing and Sustaining Change – Set Goals – Measure Performance – Provide Feedback and Coaching – Be Generous with Rewards and Recognition – The Tough Questions of Change Management – The Change Manager's Toolkit
Description:
Author has written a book that is appropriate for the manager of a small independent organization or the CEO of a multinational corporation. What he points out is that in order for change to work, it must be done with the human element in mind. He emphasizes discipline and honesty as essential attributes and the tool kits at the end of the text are well formulated and organized.
Hanna, D. (1988), Designing Organizations for High Performance. Reading: Addison-Wesley
Table of Contents:
Understanding How Organizations Function – An Organization Performance Model – The Assessment Process – The Design Process – Approaches to Specific Design Issues – Managing Cultural Change – Design Renewal: A Challenge to All.
Description:
The book focuses on how to implement various theories to get better results, and therefore is more of a 'how-to' book rather than being comprehensive in treatment of concepts. The how-to concern two aspects of design: (1) the rational part, including identifying the desired organizational model, structuring the various design elements to produce the required results, and assessing one's progress at any point of time and (2) the emotional part including educating members about organizational alternatives to the bureaucratic model, developing their commitment and support for the model actually chosen , changing habits and practices to fit with the "model system", maintaining commitment "when the going gets tough", and renewing the model when circumstances require it.
Lawler III, E. E. (1992), The Ultimate Advantage: Creating the High-Involvement Organization. San Francisco: Jossey-Bass
Table of Contents:
Part One: Searching for Competitive Advantage, Make Management an Advantage – Choose the Right Management Style – Part Two: Designing Organizations, Work, and Rewards, Create a High-Involvement Structure – Identify Work Design Alternatives – Develop Involving Work – Foster Organization-Improvement Groups – Pay the Person, Not the Job – Reward Performance – Part Three: Managing Information and Human Resources, Promote Open Information Channels – Establish High-Involvement Management Practices – Support Positive Managerial Behavior – Involve Unions in the Organization – Part Four: Creating High-Involvement Organizations, Develop High-Involvement Business Units – Manage the Change Toward High-Involvement
Description:
This book offers a well-organized way of thinking about comprehensive organizational change, challenges traditional management assumptions, and suggests innovative yet practical alternatives for improvement.
Nadler, D. A., Gerstein, M. S., Shaw, R. B. et al. (1992), Organizational Architecture: Designs for Changing Organizations. San Francisco: Jossey-Bass
Table of Contents:
Introduction: Organizational Architecture: A Metaphor for Change – Part One: Architectures of Change, From Machine Bureaucracies to Networked Organizations: An Architectural Journey – Designing Organizations That Have Good Fit: A Framework for Understanding New Architectures – Part Two: Designing Formal Organizational Arrangements, Managing the Dynamics of Acquisitions: Successfully Moving from Decision to Integration – Building Strategic Partnerships: Creating and Managing Effective Joint Ventures – Designing High-Performance Work Systems: Organizing People, Work, Technology, and Information – Part Three: Transforming the Informal Organization, Implementing Total Quality Management: A Process of Cultural Change – The Capacity to Act: Creating a Context – Teaching Organizations to Learn: The Power of Productive Failures – Part Four: Designing Senior Management, Strategic Selection: Staffing the Executive Team – Teamwork at the Top: Creating Executive Teams That Work – Strategic Choice: Engaging the Executive Team in Collaborative Strategy Planning – Part Five: The Road from Decline to Competitiveness, Key Leverage Points for Improving Competitive Performance – Organizational Architectures for the Twenty-First Century
Description:
The authors present new and innovative approaches to designing and structuring organizations, approaches that are now being developed and tested in some of the most well respected companies. Emerging techniques for answering the challenges senior managers face today are introduced. Furthermore, the book presents a proven model for understanding organizations and demonstrates how the model can be used to effect positive change in both formal and informal organizational systems. It shows how to expertly manage mergers and acquisitions, joint ventures, and high-performance work systems. It also explains how to bring about enhanced organizational learning, increased risk-taking behavior, and improvements in total quality management strategy.
Nadler, D. A., Spencer, J. L. (1997), Executive Teams. San Francisco: Jossey-Bass
Table of Contents:
A New Leadership Model – Leading Executive Teams – Executive Team Effectiveness – The World of the CEO – Designing CEO and COO Roles – Managing the Executive Team – The CEO and the Executive Team – Performance on the Executive Team – The Importance of Trust – Recognizing and Resolving Executive Team Conflict – The CEO's Role in Conflict Resolution – The Role of Feedback in Executive Team Effectiveness – Leading the Organization – The Work of the Executive Team – The Process of Governance – Developing Strategy – Leading Strategic Change Teams – Creating a High-Performance Operating Environment – The Competitive Advantage of Executive Teams
Description:
This book is a powerful force change agents can use to create and maintain senior teams that work. It draws upon change initiatives with Xerox, Lucent Technologies, Corning, Chase Manhattan Bank and other firms to demonstrate exactly what executive teams are all about and detail the proficiencies CEOs must master to ensure their success.
Rummler, G. A., Brache, A. P. (1995), Improving Performance: How to Manage the White Space on the Organization Chart. San Francisco: Jossey-Bass
Table of Contents:
Introduction: The Challenges Facing American Business – Part One: A Framework for Improving Performance, Viewing Organizations as Systems – Three Levels of Performance: Organization, Process, and Job/Performer – Part Two: Exploring the Three Levels of Performance, The Organization Level of Performance – The Process Level of Performance – The Job/Performer Level of Performance – Part Three: Applying the Three Levels of Performance, Linking Performance to Strategy – Moving from Annual Programs to Sustained Performance Improvement – Diagnosing and Improving the Organization: A Case Study – Improving and Managing the Processes of the Organization – Measuring Performance and Designing a Performance Management System – Designing an Organization Structure That Works – Managing Organizations as Systems – Creating a Performance-Based Human Resource
Description:
Authors reflect on the key needs of organizations faced with today's challenge of managing change. With multiple charts, checklists, hands-on tools and case studies, the authors show how they implemented their Performance Improvement methodology in over 250 successful projects with clients such as Hewlett-Packard, 3M, Shell Oil, and Citibank.
---
Cotter, J. J. (1995), The 20% Solution: Using Rapid Redesign to Create Tomorrow's Organizations Today. San Francisco: John Wiley & Sons
Table of Contents:
New Ways of Thinking about Tomorrow – New Perspectives Shape New Futures – Setting a Stage for Rapid Redesign – Rapid Redesign: Clarifying Purpose, Philosophy, and Mission – Rapid Redesign: Finding Strengths and Weaknesses in Core Business Processes – Rapid Redesign: Mapping and Analyzing Social Processes – Rapid Redesign: Radically Redesigning the Organization – Rapid Redesign: Implementation and Continuous Renewal – Redistributing Responsibilities in the Redesigned Organization – Managing Organizations in an Age of Paradox
Description:
Cotter spells out the changes in perspective required of every member of a company attempting to make the transition to a flexible, change-centered organization. This is followed by a series of interrelated chapters in which he provides step-by-step guidelines on how to go about designing, planning, building, and managing such an organization using his rapid redesign approach.
Crosetto, G., Macazaga, J. (2005), The Process-Based Organization – A Natural Organization Strategy. Amherst: HRD Press
Table of Contents:
The Traditional Organization – Preparing the Road for Change – Redesigning the Factory – Process-Based Organization – Designing the Logistics Department – Implementing Changes at the Factory – Change in the Administration and Commercial Departments – The Human Factor – The Future – Let's Say It Again with Feeling!
Description:
Authors use a story-telling approach to provide a clear overview of a process-based organization and the many benefits it can bring to organizations. The title shows the path to productivity increases, cycle time reduction, and improvements in customer service and people motivation. By analyzing and understanding process change in one manufacturing company, you can get an insight in the way how process-based organization should be organized and functioning.
Flanigan, E., Scott, J. (1995), Process Improvement: Enhancing Your Organization's Effectiveness. Menlo Park: Crisp
Table of Contents:
What is Process Improvement – Identifying the Players – Ensuring Success – Understanding What Needs Changing – Getting Where You Want to Be – Getting Changes to Stick
Description:
Process improvement is a way to look at the world that allows you to do things faster, better or cheaper. By using the ideas behind process improvement, you create products or services that vastly superior to your competitors. There are two major "process-oriented" approaches to consider using to keep improving your products or services: one is generally refrred to as process improvement and the other is referred to as process reengineering. Although the end goal of both approaches is to do things better, faster and cheaper, there are some differences in how each approach begins.
Harmon, P. (2007), Business Process Change: A Guide for Business Managers and BPM and Six Sigma Professionals. San Francisco: Morgan Kaufmann
Table of Contents:
Introduction – Business Process Change – Part I: Enterprise-Level Concerns, Strategy, Value-Chains and Competitive Advantage – Understanding the Enterprise – Process Architecture and Organizational Alignment – Process Management – Measuring Process Performance – An Executive Level BPM Group – Part II: Process-Level Concerns, Understanding and Scoping Process Problems – Modeling Processes – Task Analysis, Knowledge Workers and Business Rules – Managing and Measuring Business Processes – Process Improvement with Six Sigma – The BPTrends Redesign Methodology – The Ergonomic Systems Case Study – Part III: Implementation-Level Concerns, Software Tools for Business Process Analysis and Design – Business Process Management Suites – ERP-Driven Redesign – Conclusions – Appendix I: Business Process Modeling Notation: BPM Core Notation – Appendix II: Business Process Standards
Description:
Every company wants to improve the way it does business, to produce goods and services more efficiently, and to increase profits. Every manager understands that achieving these goals is part of his or her job. In this balanced treatment of the field of business process change, Paul Harmon offers concepts, methods, cases for all aspects and phases of successful business process improvement. The book is addressing the growing interest in Business Process Management Systems, and the integration of process redesign and Six Sigma concerns.
Hupp, T., Polak, C., Westgaard, C. (1995), Designing Work Groups, Jobs and Work Flow. San Francisco: Jossey-Bass
Table of Contents:
What Makes a Work Group or Department Effective? – Defining the Purpose and Scope of the Redesign Effort – Environmental Analysis: Identifying Critical Goals, Demands, and Constraints – Technical Process Analysis: Understanding How the Group Creates Its Products and Services – Human Systems Analysis: Understanding How People and Jobs Are Organized and Supported – Goal Design: Matching Work Group Goals to Environmental Demands – Technical Process Design: Building Speed, Focus, and Integration into the Flow of Work – Human Systems Design: Building Initiative and Teamwork into Jobs – Implementation: Managing the Transition from Plans to Reality – From Full Warehouse to Just-in-Time: Case Study of Redesigning the Brandon Companies Distribution Department
Description:
In the book is presented an integrated approach to using the most powerful reengineering tools to design single work units that are productive, responsive, and build participant ownership and commitment. Furthermore, this practical tool kit includes techniques for analyzing and designing daily work flow, group structure, and job responsibilities of intact work groups. Useful when you need to get down to the nitty-gritty of job and work design.
Ostroff, F. (1999), The Horizontal Organization. New York: Oxford University Press
Table of Contents:
Part one: What the horizontal Organization is, Who needs the horizontal organization? – Each horizontal organization is unique – Horizontal is not same as flat – The horizontal organization empowers people – Part two: How the horizontal organization works, Organizing around a core process – Organizing a horizontal operating unit – Organizing a division around a sales and service delivery process – Organizing an entire company horizontally – Part three: How to build a horizontal organization, Three phases to master – Phase one: Set direction – Phase two: Formulate design – Phase three: Institutionalize the approach – The Road ahead
Description:
Author provides managers with the first all-inclusive and tested alternative to the vertical organization. Indeed, he offers nothing less than the first view of what the organization of the future looks like and how it works. He presents examples of actual organizations that have used the concept of the horizontal organization to meet their competitive goals.
---
We live in a new world where work and life are blended as opposed to balanced, and feelings of financial security and entitlement are a thing of the past. Job satisfaction is at a record low which is a crisis with a far reaching impact.
For businesses, a disengaged workforce means lower levels of productivity and service, and ultimately lower growth and profits. For individuals, our emotions at work spill over to the other areas of our lives and take a toll on our health and relationships.
In We, Rudy Karsan and Kevin Kruse dig deep to reveal the nature of work in the modern organization and share secrets to achieving full engagement at work, based on findings from over 10 million worker surveys in 150 countries, annually, and also on their own experiences leading fast growth companies. They highlight three high impact drivers of engagement:
Growth: Team members need to feel they are growing in their careers and learning new things.
Recognition: Team members need to feel that their ideas and accomplishments are appreciated.
Trust: Team members need to trust senior leadership and feel confident about the future.
Brickley, J., Smith, C., Zimmerman, J., Willet, J. (2002), Designing Organizations to Create Value: From Strategy to Structure. New York: McGraw-Hill
Table of Contents:
Organizational Architecture: The Three-Legged Stool – Maximizing Shareholder Value: Crafting a Strategy to Create and Capture Value – Knowledge and Incentives in Organizations – The First Leg: Decision Authority, the Level of Empowerment, and Centralization versus Decentralization – Decision Authority II: Bundling Tasks into Jobs and Jobs into Business Units – The Second Leg: Performance Evaluation – Divisional Performance Measurement – The Third Leg: Compensation – Incentive Compensation – Leadership: Initiating, Motivating, and Managing Change – The Process of Management Innovation
Description:
The objective of the book is to provide an approach to organizational structure that supports the firm's business strategy and maximizes shareholder value. Furthermore, value creation is a requisite for long-term organizational survival and success. Rather than focusing one aspect or strategy, the book details virtually every area that influences value creation, including: proven strategies for efficient deployment of knowledge throughout an organization; decentralization, and the necessity of implementing proper checks and balances; the essential and interwoven roles of institutional innovation, strategy, and dynamic leadership.
Lowell, L. L. B., Joyce, C. L. I. (2007), Mobilizing Minds: Creating Wealth From Talent in the 21st Century Organization. New York: McGraw-Hill
Table of Contents:
Introduction: Mobilizing Mind Power – Part I: A new model, Opportunity for better design – Designing organizations for the 21st century – Part II: Ideas to manage better, Creating a backbone line structure – One-company governance – Dynamic management – Part III: Ideas to improve the flow of intangibles, Formal networks – Talent marketplaces – Knowledge marketplaces – Part IV: Ideas to motivate better behaviors, Financial performance measurement for the 21st century – Role-specific performance evaluation – Part V: Conclusion, Organization design as a strategy
Description:
Authors have come up with a simple yet revolutionary conclusion: Your workforce is the key to growth in the 21st century. By tapping into their underutilized talents, knowledge, and skills you can earn tens of thousands of additional dollars per employee, and manage the interdepartmental complexities and barriers that prevent real achievements and profits. They outline innovative principles that enable corporations to: manage complexity, bureaucracy, and redundancy; use hierarchical authority to strengthen the authority of key managers and drive performance; deliver operating earnings while implementing wealth-creation strategies; allow formal networks, talent, and knowledge marketplaces to work in a large company; motivate and reward wealth-creating behavior; and, pursue organizational design as a corporate strategy; and, increase worker satisfaction.
Myers, P. S. (1996), Knowledge Management and Organizational Design. Boston: Butterworth-Heinemann
Table of Contents:
Knowledge Management and Organization Design – The Use of Knowledge in Society – Specific and General Knowledge, and Organizational Structure – The Rise and Fall of Bureaucracy – The Emerging Flexible Organization – The Organization of Innovation – When a Thousand Flowers Bloom: Structural, Collective and Social Conditions for Innovation – Knowledge Links – Strategic Alliances, Organizational Learning, and Competitive Advantage – The Numbers – Motivating Knowledge Workers – The Social System at the Shop Level – The Abstraction of Industrial Work – Building Intelligence Networks
Description:
Author has created a compilation of articles and book excerpts that describe how the form and management of an organization shapes its level of knowledge transfer, innovation and learning.
Sadler, P. (2000), The Seamless Organization: Building the Company of Tomorrow. London: Kogan Page
Table of Contents:
Organizations as Social Architecture – Control. Implications for Organization Design – Building Connections – The Customer-driven Company – Organizing for Creativity and Innovation – Designing Organizations for Employee Commitment – Co-ordination: Building The Seamless Organization – Developing Organizational Competence – Managing Organizational Change – Recent Developments in Organization Design
Description:
The book distils the essence of the analysis and research for the benefit of practising managers. It manages to bridge the gap between analysis and action, making it a valuable reference tool for anyone in a strategic or decision-making role.
Schneider, W. (1999), The Reengineering Alternative: A Plan for Making Your Current Culture Work. New York: McGraw Hill
Table of Contents:
Introduction – The Meaning and Importance of Organizational Culture – Core Culture: A Questionnaire – The Control Culture – The Collaboration Culture – The Competence Culture – The Cultivation Culture – The Genesis of Organizational Culture – A Framework for Developing Your Organization – Appendix: Corroboration from the Work of Others
Description:
In the book are presented a strong definition of different types of organizational culture and a strong case for understanding that culture and building on internal strengths before looking to external models.
Shepard, K., Gray, J. L., Hunt, J. G. (2007), Organization Design, Levels of Work and Capability: Executive Guide. Toronto: Global Organization Design Society
Table of Contents:
Part One: Perspectives on the Levels of Work Approach to Organizational Design – Part Two: Enhanced CEO Performance – Part Three: Major Applications of Levels of Work Approach – Part Four: Partial Applications of the Levels of Work Approach – Part Five: Fitting the Right Person to the Right Role at Right Time – Part Six: The Dynamics of Implementing the Levels of Work Approach – Part Seven: Development and Diffusion of Levels of Work Concepts
Description:
This executive guide is written specifically for CEOs, their C-Level Team and General Managers who want to create highly productive, accountable organizations within which employees thrive in roles that suit their capability. It is based on the Elliott Jacques' concept of a requisite organization, as well as on the Levels of Work Approach.