Emerging Organizations – Where Are the Lines?
Map Unavailable
Date/Time
March 13, 2019
11:30 am - 12:30 pm
Join ODF board member, Stuart Wigham, PhD in a conversation exploring his doctoral research around new and novel approaches to organization formation.
Stuart's research focused on the case of a public sector organization creating a company to trade in the market place in order to raise revenue to support other public services.  In addition to the typical organization design conundrums this raises, it also raises the question of where are the lines (or not) between business and enterprise.  These issues connect to other phenomena we are observing mostly from China where state owned enterprise is allowed to grow and develop with the support of Government intervention in the marketplace.  As a community, ODF members often discuss new and novel approaches to organization formation, however, are companies birthed in a control economy really comparable to ones created within a normative based free market economic environment?  If they are, in what circumstances?  If they are not, should we even pay attention to them in terms of learning and developing Organization Design?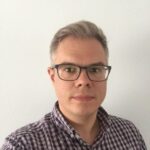 Dr. Stuart Wigham is a Content Manager and Consultant at ON THE MARK, a boutique Global Organisation Design Consultancy.  In addition to this, he is on the Board of Directors of ODF.  His expertise is within the Whole System school of thought with a particular interest in engagement principles and practice, and applying Strategy, Reward, and Equality principles.  Stuart has spent much of his twenty one years' experience within the UK local government.  In recent years, adopting learning from commercial organisations and applying it within public sector at the most senior strategic level.  Stuart's Doctoral research focused on the Emergent Organisation Design.  He is a Chartered Fellow of the CIPD, a Fellow of the RSA, and an Associate Fellow of the UK HEA.
Categories