Microsoft Envisioning Center Tour (2019 Conference)
Map Unavailable
Date/Time
April 17, 2019
7:30 pm - 10:00 pm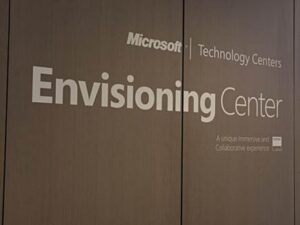 Limited Space Available
Join fellow conference attendees on a private tour of
Microsoft's Envisioning Center
April 17 @ 4:30 PM (PT)
We have reserved a charter coach to transport the group from the Woodmark Hotel
$40 fee
We anticipate being back to the hotel ~7:00 PM
The Microsoft Envisioning Center allows visitors to experience how our emerging technologies and current investments could transform life at home, at work and on the go, and to see first-hand our vision for the future of productivity in response to this fast changing world. The center features immersive, hands-on experience prototypes set about five years out in three environments: a future work environment, a home, and a public space. These prototypes bring four key user experiences to life:
Bring People Together: Connecting with others and working together in new ways, with interactive surfaces that help you brainstorm, visualize projects, and simulate outcomes in real-time.
Live Smarter, Work Smarter: Augment human intelligence with services and devices that understand your world and work on your behalf, bringing the right information, people and tools to you at the right time.
Creative Flow: Tools that help you bring your ideas to life and evolve them naturally, the way your mind works. Move freely, fluidly traversing devices, places and most importantly ideas.
Peace of Mind: work in confidence, knowing that the mobility of your experiences is matched by their security, both for you and the organization or team you are working with.
Available Demos: Work on the go with augmented intelligence – Future Workspace environment – Team Collaboration Spaces – Next Gen Meetings – Digital desk and smart canvas – Home Hub – Cooking with Cortana – Next Gen Family Room
Categories No Categories