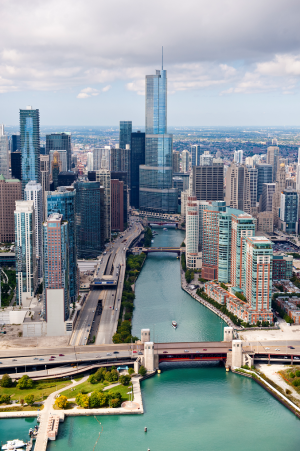 Chicago is known as a center of architectural innovation.  One of the reasons for that reputation – the 1909 Plan of Chicago created by Daniel Burnham, Edward Bennett and the City Club of Chicago –  ushered in a new era of urban design and planning.
What can we learn for our own design practices from these pioneering planners who believed their city could be the most beautiful and prosperous in the world and inspired its citizens to create it themselves?
Join your fellow attendees and embark on a self-guided (and self-paced) walking tour of Chicago's architectural highlights as we move from our hotel location on the shore of Lake Michigan to the interior of one of Chicago's famed skyscrapers, the Aon Center.   There, over drinks and light snacks, we'll explore the 1909 Plan of Chicago with Barbara Geiger, a design consultant and landscape historian, who will bring the beauty, rhythm and cohesiveness of the Plan to life.
"Chicago In Plan-View"
Wednesday, May 4
5:30 – 7:30 pm
Aon Center @ 200 E Randolph
 "The people of Chicago must ever recognize the fact that their city is without bounds or limits."