WE INVITE YOU TO JOIN




A COMMUNITY CONVERSATION
UPCOMING CONVERSATIONS . . .
Next conversation date/topic to be announced soon
Using Zoom, a virtual platform, ODF will facilitate 60-minute Community Conversations around topics that come from posing the questions:
What is the "Learning Edge" for you and your client/company?

What emerging trends are you seeing?
Each of these conversations will be led by a different community member, who designs the session, offering the opportunity for any community member to facilitate.  Our hope is that the talks will be so engaging it will lead to a continuing dialogue.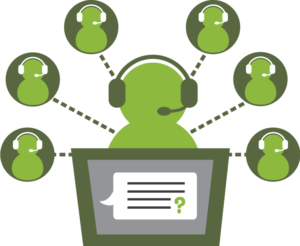 Technology in Service of People – The after party "ah-ha moments"
Held on 05/02/19
To continue our connections and thinking, please join us on Thursday, May 2nd at noon EDT for a Community Conversation where we will reflect on what was most valuable to us, what we will experiment with, and what is still resonating for us.  We'd also like to spend a few minutes getting feedback from you to make our 2020 conference in Nashville even better.
Emerging Organizations – Where Are the Lines?
Held on 03/13/19
Join ODF board member, Stuart Wigham PhD, in a conversation exploring his doctoral research around new and novel approaches to organization formation.
Stuart's research focused on the case of a public sector organization creating a company to trade in the market place in order to raise revenue to support other public services.  In addition to the typical organization design conundrums this raises, it also raises the question of where are the lines (or not) between business and enterprise.
Is Honesty a Design Challenge?
Held on 01/24/19
Ron Carucci, Co-Founder and Managing Partner, Navalent, and also a keynote speaker at ODF's 2019 Annual Conference in a conversation exploring designing for integrity.
Ron has recently completed a 15-year longitudinal study revealing four systemic patterns that directly shape whether or not people will show up with integrity – fully themselves, with all of their best ideas, honest about what they see and think, and ready to contribute to the organization's greater good.
In this session, Ron will preview the findings in advance of his keynote presentation at the conference in April on where and how honesty is, in fact, a design issue for organizations.
Can We as Org Designers Ever Reach Critical Mass In Our Work?
Held on 12/12/18
Paul Tolchinsky led a conversation to explore our past successes and failures, what we've learned and how we take our learning's into the future together.  What is the impact and momentum organization designers have had on each other and organizations?  How do we build bridges to other adjacent communities? Where is the critical thinking in organizations, the openness to reflect and adjust, to find the positive deviants and leverage their know-how and energy?
Org Design at Critical Mass?
Organization Redesign at Chevron Pipeline: Minding the Flow
Held on 06/14/18
An engaging conversation on a successful organization redesign at Chevron Pipeline Company (CPL). CPL used a phased, leader-led project approach to set direction, create design, and execute deployment over a 9-month period. Expect an energizing conversation sharing some of the contradictions and challenges, that led to overall successful outcomes.
This Community Conversation will bridge the gap between our virtual sessions and our annual conference. Whether you attended the conference or not there will be something here for you.
Join us to discuss the themes of Agility and Innovation, which the conference centered around. We'll share lessons learned during the diverse plenary presentations and peer workshops, and just as importantly . . . the cherry on top. . . all of the very engaging integration discussions sprinkled throughout.
2018 Post-Conference Debrief
Author Peter Block will explore the challenges of consulting for changing organizations and the complexity of consulting in a world where change efforts can become cosmetic and never fulfill their potential. Based on his book, Flawless Consulting, he will discuss how to have influence and act as a partner. Partnership is the point, contracting is the skill, and recognizing the difference and leveraging each at the right time – that's the art.
Join us as community member, Jill Windelspecht, leads a discussion on organization assessments.  There are multiple approaches and models that are used. We are looking forward to hearing from you on your 'favorite' model(s), why and how you use it so we can all grow!
"Exploring Organization Assessments" a Community Conversation
Join community member, Keith Warren, in a conversation about how Digital Transformation is driving enormous organization and culture change. An understanding of digital transformation will be essential knowledge for any organization design practitioner.
"Pathways to Digital Transformation" a Community Conversation
Join community member, Anne Murray Allen, as she leads a conversation – Working on Complex Collaborations – what holds people together when time and circumstances conspire to pull them apart?
"Complex Collaborations" a Community Conversation
Join community member, Denise Easton, as she leads a conversation on making Complexity work in organizations . . .
"Making Complexity Work" Community Conversation
In this Community Conversation Janet du Preez, engagement researcher and protagonist, will facilitate an exploration of a complex topic which seems to pepper most org design conversations.
Join us as Dr. Marty Trevino, Technical Director of Mission Analytics for the U.S. Dept. of Defense, discusses how the fusion of business intelligence, decision science, and organization design & development is changing everything, and what an OD practitioner path to relevance in the new world may be.
"STS for Dynamic OD" Community Conversation
Join community member, Dan Ritter and his co-facilitator, Peter Ross, in an engaging dialogue on the considerations beyond establishment of an initial organization design to achieve and sustain desired results. Organization design work is not complete once an effective and efficient design has been established. Explore ways to be thoughtful about transitions, establish and track measures of success, and monitor future design needs.
"Achieving & Sustaining Design Outcomes" Community Conversation
Join ODF Board member, Bill Zybach, as he leads a discussion addressing the pace of change. . . The world is accelerating at a rapid pace, and our clients expect us to move beyond old linear approaches to design. What have you done to keep up with both the expectations and the pace of change?
"Accelerating Design Processes" Community Conversation
Join community member, Mary Winby, in a conversation about how, as the environment becomes more complex, the concept and process for org design and consulting is changing.  Explore ways consultants can be more adaptive to address client real-time needs.
Join community member, Anna McGrath and her co-facilitator, Julianna Christie, as they lead a conversation on the topic of personal mastery . . .
"Power of Presence" Community Conversation