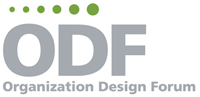 Get Involved in ODF Today -  2013 Annual Conference Volunteers Needed NOW!
You will work with great people who share your passion and you will have a voice in shaping this wonderful event.
If you can help, email Tanya at info@organizationdesignforum.org
The Organization Design Forum builds and advances the community, practice, and leadership of the field of Organization Design and its strategic role in the connectivity to other disciplines.
We are the international community that connects, convenes and creates innovative and leading edge thinking where theory and practice come together to advance organizations through design.