Pop-Up Conversation: Racial Diversity in the Field of Organization Design
Map Unavailable
Date/Time
September 16, 2020
11:00 am - 11:50 am
In this Zoom call, we'll explore the topic of racial diversity in the field of organization design.
We'll consider the diversity of the organization design community itself,
as well as how we as practitioners can help clients
design for diversity in their organizations.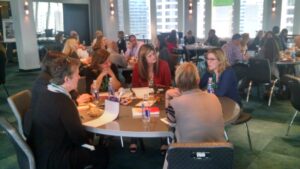 Join the conversation – September 16 @ 11:00 AM (EDT)
Racial Diversity in the Field of Organization Design
How would increasing racial diversity in our org design community benefit those we serve?
How could org design illuminate and address where inequalities might exist or might result in systemic bias?
What is the responsibility of our org design community to respond to these challenges?
We invite you to join a "Pop-Up" Conversation with your fellow ODF community members in an "open-space" to connect with thinking partners
**Unlike our other virtual connections, our Pop-Up Conversations are an experiment we are running – an effort to build community by sharing ideas in a casual group conversation, with a little structure and gently facilitated to encourage contributions by all participants.**
Categories