Testing Tactics for Extreme Organization Design with Automation: Which Bottom-Up Approach is Best for You?
featuring:
Dr. Terri Griffith, PhD, Keith Beedie Chair in Innovation and Entrepreneurship at Simon Fraser University
Most discussions of automation (everything from using macros to artificial intelligence) and organization design focus on top-down situations.  There are some great books on this (e.g., Reinventing Jobs), but we also need to be supporting people to work from the bottom-up.  Think about how computers were used when they were mainframes bought by the company.  Then think about what happened when we all got personal computers. We developed new ways of using these powerful tools.
The trouble is most people are not organization design professionals and today's automation is not as easy to see as a personal computer.  Research shows that most people do not make adjustments to their work practices, and even if they do, they don't do a good job. We can help.  We can trigger more "work crafting" and help people make good decisions about how they apply automation, crowd-sourcing, and the like, in their work.  My hypothesis is that the "doom and gloom" scenarios around automation, for example, are more likely if we only work from the top-down. Where we have seen work crafting, we also see people performing better and having better employment options. We'll talk through examples from some extreme (e.g., Hyperloop Transportation Technologies) and not so extreme organizations.
FACILITATOR: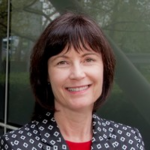 Terri Griffith holds the Keith Beedie Chair in Innovation and Entrepreneurship at Simon Fraser University's Beedie School of Business. She spent two decades in Silicon Valley, and in 2012 was honored as a Woman of Influence by the Silicon Valley Business Journal.
Terri helps people and organizations accelerate performance and prepare for the futures of work. Through her speaking, writing, teaching, and research, she brings evidence-based leadership and innovation to organizations spanning high tech, education, and global agribusiness. She inspires and coaches groups on how to negotiate change and uniquely mix existing and new capabilities. Her most recent work takes on a "bottom-up" approach to automation, including artificial intelligence.
Her award-winning book, The Plugged-In Manager: Get in Tune with Your People, Technology, and Organization to Thrive, offers clear examples and frameworks for succeeding now and in the future — not just leadership, not just technology, but a powerful combination that leverages all your resources.
For over 25 years she has offered programs and projects for companies and associations including Oracle, IBM, Cisco, ESADE, Sonera, SIM APC, and the Council of Supply Chain Management Professionals. She serves on the advisory boards of GeoPogo, and Intelenz.
Through her blog, Technology and Organizations, and freelance work (Wall Street Journal, Harvard Business Review Blog, Women 2.0, MIT's Sloan Management Review), Terri follows organizational trends and the leaders who bring them to life. Her academic work is published in top journals such as: Organization Science, Information Systems Research, MIS Quarterly, IEEE – Transactions on Engineering Management, and the Academy of Management Review. Some of this research has been funded by the National Science Foundation. Terri has served as senior editor for Organization Science and associate editor for MIS Quarterly. She is currently an editorial review board member for Organization Science and associate editor of Group Decision and Negotiation. Her undergraduate degree is from UC Berkeley; her MS and PhD are from Carnegie Mellon.
Get connected with Terri and start following her at terrigriffith.com